Then he said to all,
"If anyone wishes to come after me, he must deny himself
and take up his cross daily and follow me.
For whoever wishes to save his life will lose it,
but whoever loses his life for my sake will save it.
What profit is there for one to gain the whole world
yet lose or forfeit himself?"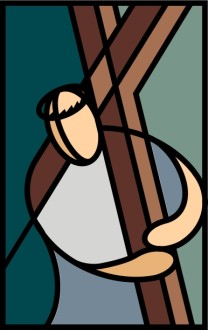 There is no question that in seeking to save our lives by having an abortion, we lost it. Many of us aborted because of the pressures of the world.  Maybe a partner, a boyfriend, or a husband was pushing abortion. Perhaps the hopes of college or embarassment that we placed ourselves in this situation or not wanting to disappoint someone we love, like our parents, added pressure to chose abortion.
We worried more about the "world" than about the life within us. We lacked the trust that God would see us through, and so we believed abortion was the answer to continuing our lives. We believed, or at least wanted to believe, that our lives would go back to the way they were before pregnancy.
Sadly, we found this was not true.  However, it is never too late for God's healing mercy! It is never too late to pick up our cross and follow Him. It may be the cross of abortion we are now carrying, but we can carry it to our children in heaven, secure in the knowledge that Jesus died for our sin and longs for our redemption.